/me has moved to Paris
Well, this is not really an "I'm moving" post, but rather a "I've moved" post: starting from past Tuesday I'm now living in Paris. I will be working as a post-doc in the mancoosi project, which is a wonderful occasion to merge my research work with my free software enthusiasm. I've also submitted a talk proposal about mancoosi for DebConf8, ... it will be a good occasion to chat about it if you are interested.
My office is in the PPS lab, which was already quite packed of Debianers, /me is just one more, happy to join the crowd!
The first day of shopping in Paris forces me to post a picture on the very same lines of Enrico's "how to freak out a French person". Mine below can be titled how to freak out an inhabitant of Modena: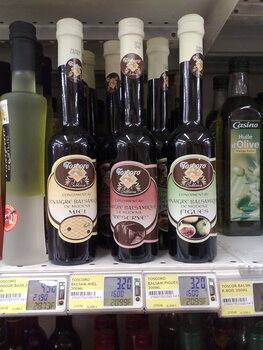 Here you are: balsamic vinegar flavoured with figs or honey ..., tasty eh? (dedicated to gareuselesinge)
PS unfortunately at home I'm still without network connectivity (unless you count poorly working, up 1 random hour per day, stolen wi-fi as connectivity), so I won't be able to work on Debian et al. a lot from home in the next few weeks.