And Now For Something Completely Different
There are those weird coincidences that flock together and have the power of subverting initial expectations. Something like that has happened to me this week, when I've ended up spending a considerable amount of my IRILL work time (you know, something like 1000% of it) as a Debian Video Team volunteer.
Mean as I am, I'm not going to explain the concatenation of coincidences.
Suffices to say that most of the video hardware meant to be used at DebConf11 ended up being in my IRILL office. Of course all of it — for about 200 kg and 2000 liters — was in need of some inventory, packing, and shipment love. Together with Holger, Mehdi, and Etci we have tamed all of it. The following box miscellanea will therefore soon be on its way to Banja Luka:
DebConf11 video hardware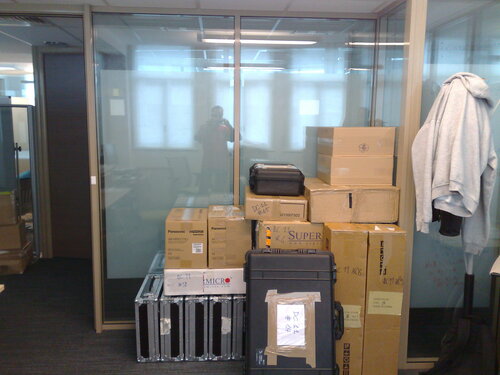 As an undesirable side effect, I had to join Bdale's «knows more about ATA than he'd like to»-club.
Holger opted not to join the club and I really can't blame him.