on perceived hysteria and silent sanity
As you probably already know by now, the results of the Debian init system coupling general resolution (GR) look like this:
Init system coupling GR: results (arrow from A to B means that voters preferred A to B by that margin)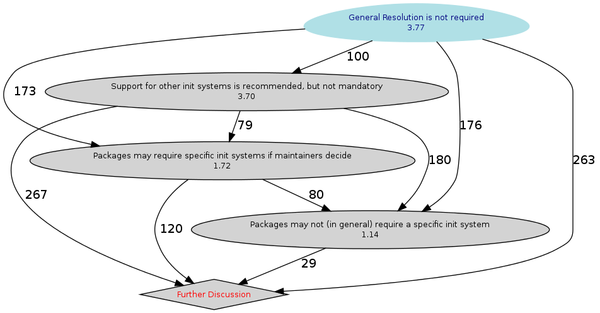 Some random thoughts about them:
My take home message is that we are experiencing a huge gap between the public perception of the state of Debian (both from within and from without the project) and the actual beliefs of the silent majority of people that make Debian with their work, day after day.
In part this is old news. The most "senior" members of the project will remember that the topic of "vocal minorities vs silent majority" was a recurrent one in Debian 10+ years ago, when flames were periodically ravaging the project. Since then Debian has grown a lot though, and we are now part of a much larger and varied ecosystem. We are now at a scale at which there are plenty of FOSS "mass-media" covering daily what happens in Debian, inducing feedback loops with our own perception of ourselves which we do not fully grok yet. This is a new factor in the perception gap. This situation is not intrinsically bad, nor there is blame to assign here: after all influential bloggers, news sites, etc., just do their job. And their attention also testifies of the huge interest that there is around Debian and our choices.
But we still need to adapt and learn to take perceived hysteria with a pinch (or two) of salt. It might just be time for our decennial check-up. Time to remind ourselves that our ways of doing things might in fact still be much more sane than sometimes we tend to believe.
We went on 10+ years ago, after monumental flames. It looks like we are now ready to move on again, putting The Era of the Great systemd Histeria™ behind us.